We're thrilled to be working with Andrew Warren, and his Thomas Caine series filled with espionage and suspense! We're organizing a cover reveal for his next (stand alone) book in the series, RED PHOENIX (Thomas Caine #2), and hope you'll help us with the reveal and getting the word out! Everyone is welcome to sign up to help reveal the cover on October 18th, 2016 – blog not required – and of course, there will be a giveaway.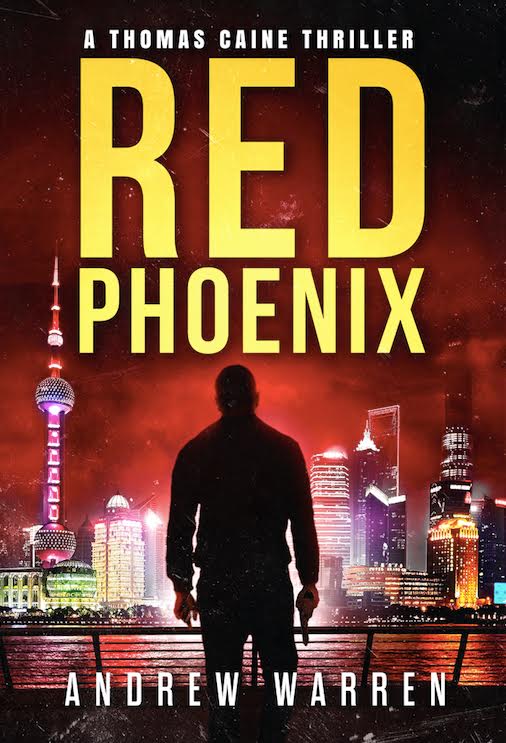 THOMAS CAINE MUST CHOOSE BETWEEN HONOR OR REVENGE… 
"Five Stars – Can't wait for more Caine adventures to come!"
Betrayed and left for dead by his CIA handler, Thomas Caine suffered captivity and torture.  He was hunted for crimes he did not commit.  And he was forced to watch his partner die, gunned down before his eyes.
Now, he has found the man responsible for all his pain and suffering.   But the cost of revenge may prove too high.  His target reveals that Caine's partner had a son, now a young man, named Sean.  And Sean is in terrible danger.
To save him, Caine will have to journey through the cities and villages of the most populous country on the planet: The People's Republic of China.
There, he and Sean find themselves tangled in a dangerous conspiracy.  To survive, they must fight NSA killers, escape a secret black jail, and struggle against a power mad triad gangster determined to cement his family's dynasty.
But Caine's most dangerous enemy is a deadly double agent, stalking them from the shadows.  Their identity is unknown.  Their motives are unclear.  And their methods are one hundred percent lethal.   They are known only by their code name:
Red Phoenix.
Can Thomas Caine unravel the identity of this mysterious assassin, before they strike their killing blow?
We hope you'll join us for this cover reveal that is open to EVERYONE! This event will also be sharing about the sale of DEVIL'S DUE (Thomas Caine #0.5, a novella) occurring at the same time. The HTML will be provided, making this a quick and easy post. Don't have a blog? Share the cover along with the synopsis and a link to giveaway on your Facebook profile, Pinterest, Twitter, Tumblr, or Instagram! Please pass this invitation along to anyone you think would be interested!
Sign up for the RED PHOENIX Cover Reveal
Sign up to read and review RED PHOENIX! Review copes (eARCs only) are expected to be available in late October. Each Thomas Caine thriller stands on its own, but if you'd like to get started on the series, TOKYO BLACK (Thomas Caine #1), goes on sale October 3rd and will be featured on BookBub!