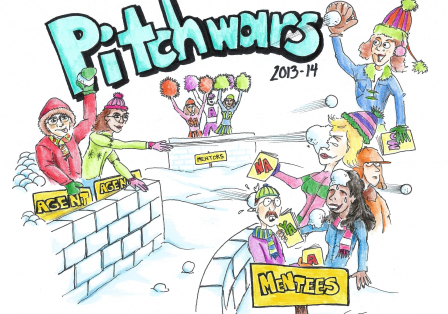 I'm proud to announce that JHPR is sponsoring the 2013-2014 round of Pitch Wars hosted by the lovely Brenda Drake! The writer-mentor team with the manuscript that gets the most requests will win $75 gift certificates for JHPR services. Many thanks to Brenda for having me as a sponsor, I'm so excited to be part of this amazing event!

What is Pitch Wars? Is it another contest? Oh, no, it's so much better. Pitch Wars is a contest where published/agented authors, editors, or interns choose one writer each, read their entire manuscript, and offer suggestions to shine it up for agents. The mentors also critique the writer's pitch to get it ready for the agent round. Mentors also pick two alternates each in case their writer drops out of the contest. A special alternate showcase is held on some of the mentors' blogs and the mentors will critique the alternates' pitches. Writers send applications (query and first page of manuscript) to the four mentors that best fit their work. The mentors then read all their applications and choose the writer they want to mentor for the next five weeks. Then we hold an agent round with over a dozen agents making requests.
Submission applications are only open today, December 2nd, until 11:59 EST. For all details and submission guidelines go HERE. Also, be sure to follow along on Twitter by following the host @BrendaDrake, and the #PitchWars hashtag! I'm beyond excited for this round of Pitch Wars. I can. Not. Wait. To find out who the winners are! Good luck to everyone that's applying today, no matter what happens, just entering is a giant step!