CO Teen Literature Conference 2014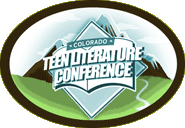 Jen attended the Colorado Teen Literature Conference (#CTLC14) on April 5, 2014. The keynote speakers were authors A.S. King and David Levithan! Jen was fortunate to get to meet up with the lovely Rebekah Crane, YA author of PLAYING NICE and ASPEN (now a JHPR client).
Photo Captions for above:
Image 1: Jen Halligan, Author Cindi Madsen, Author Anne Eliot, and publishing professionals/bloggers, Renee Nyen and Lindsay Lackey (left to right); Image 2: A.S. King giving keynote speech; Image 3: David Levithan giving keynote speech; Image 4: Rebekah Crane during Local Author Panel; Image 5: Teen Connection Panel
There were a ton of sessions to choose from, but only three time slots… here are the ones Jen attended:
Session 1: How to Open Your Story with Power (Anne Eliot & Cindi Madsen)
Session 2: Tackling the Tough and Potentially Controversial Topics (Rebecca Green Gasper)
Session 3: Local Author Panel with Rebekah Crane, Alane Ferguson, Rebecca Green Gasper, Barbara Wright, and Anastasia Zhivotov
As always, the highlight was the Teen Connection Panel at the end of the day, where teens asked the keynote authors questions!