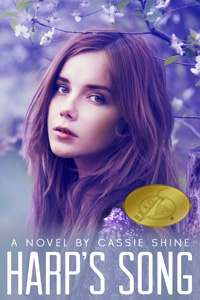 We're thrilled to announce that HARP'S SONG by Cassie Shine is a B.R.A.G. Medallion Honoree! It is also a featured title on the indieBRAG website. Be sure to check out Cassie's interview at Layered Pages about being an honoree!
IndieBRAG (an acronym for Book Readers Appreciation Group) is an independent and unbiased group of readers from the United States and ten other countries whose mission is to discover and recognize talented self-published authors. Each title that is submitted for a B.R.A.G. Medallion undergoes a rigorous screening process to determine whether it merits the honor, and must be approved unanimously by a group of readers. In the end, only about 10% of the titles that are submitted receive the award, so HARP'S SONG is part of an elite group!
If you haven't read this incredible title yet, get it for just $1.99 on Amazon!
Please help us spread the word about the amazing honor HARP'S SONG has received, and help us congratulate the lovely Cassie Shine. And be sure to check out HARP'S VOICE (HARP'S SONG #2), to find out where Harp's journey takes her next.
Here's what people are saying about Cassie Shine and the Harp Song Duology:
The best thing about Harp's Song is Cassie Shine's style. It's the author's way of writing that made the book so beautiful. It was heartfelt and really intriguing. — Chyna Ngie, Lite-rate-ture

This [Harp's Voice] is a deep thought-provoking book so please grab book 1 and then this one. Bravo Cassie Shine you created a great group of characters and an even better story! — Renee Giraldy, Reading Renee