We're so excited to share the cover for LOVE COMES HOME: A Collection of Second Chance Short Stories by Kristi Rose! The cover was quietly revealed by Kristi, but of course we had to do a shout-out post for it, because it's beautiful (all of covers in the collection are fantastic)! Check out the cover below and let us know what you think in the comments.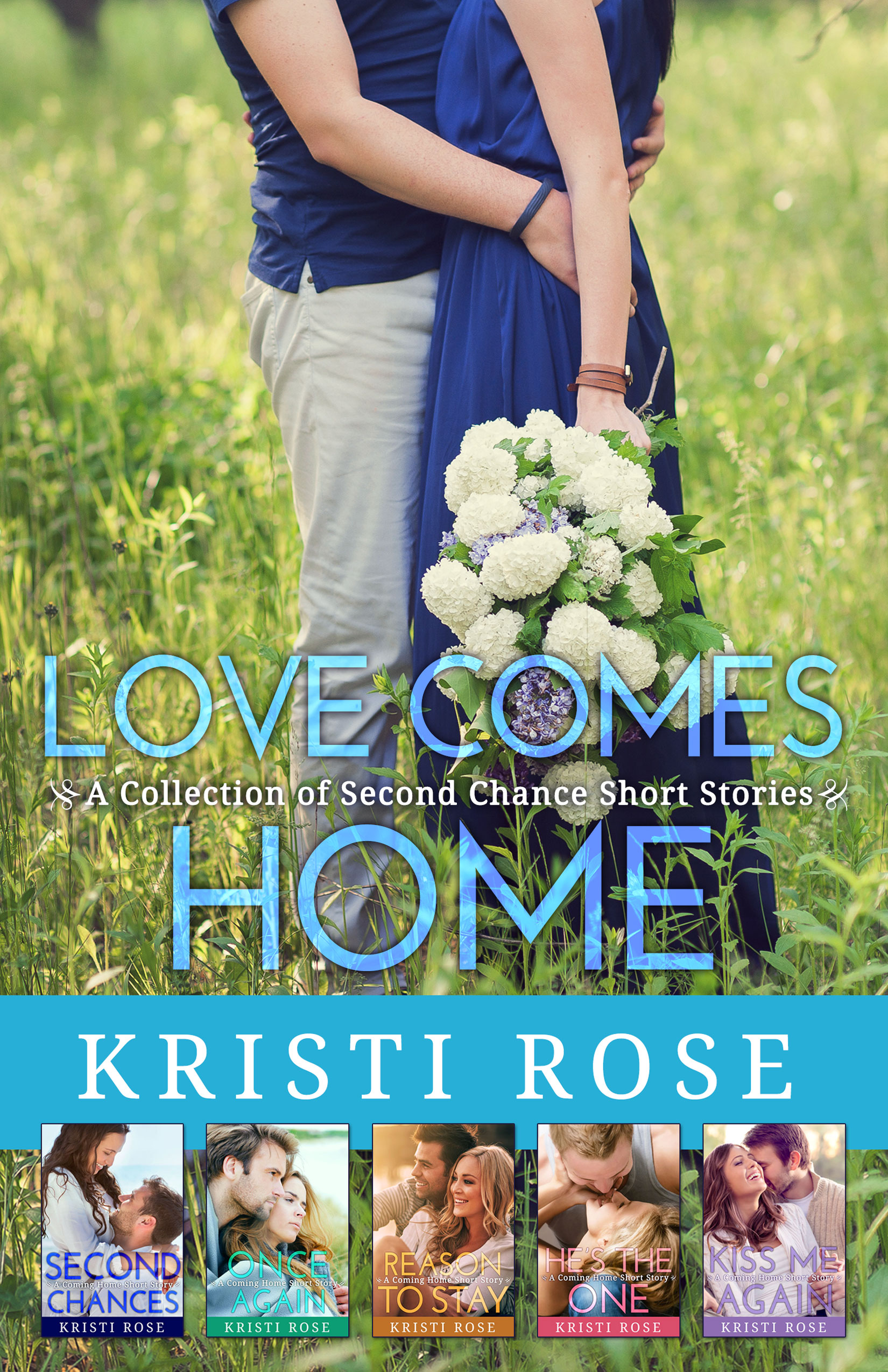 (A Collection of Second Chance Short Stories)

Age:

Adult

Publisher:

Release Date:

08/18/2015

Number of Pages:

150

Genres:

Contemporary, Romance
A collection of 5 sweet, heartwarming contemporary romances about forgiveness, second chances, and loving through difficult times. The perfect length books to satisfy your need to read when time is limited. Great for carpool, waiting in line, running kids to practice or lounging on the beach.
Book 1: Second Chances
Fourteen years ago Lorelei Parker fell in love with her best friend, Cole Williams, but instead of forever she ended up with a broken heart. Now, if they can put their past behind them, Lorelei and Cole may find a second chance.
Book 2: Once Again
Evie Barker works hard, takes care of her ailing mother, and finds pleasure in her simple life. The memory of a complicated childhood is all that remains of the old days—And good riddance.
Grady Duke blew out of town before the ink on his high school diploma was dry. A six year stint in the Marine Corps gave him a good dose of the real world. Returning home, sixteen years later, Ph.D in hand, the last person he expects to find next door is Evie.
Neither can escape the memory of one reckless summer together nor the wild attraction they still feel. But taking risks is not in Evie's disposition. Even if Grady is the one man who can offer her the happiness she's been missing. But he could also break her in an unimaginable way. Regardless, Grady must atone for the past and prove he's worth a second chance.
Book 3: Reason to Stay
Shea Barker ran away on a greyhound ten years ago. Now a rising Nashville song-writer, determined to make it on her own, she's set her eyes on everything but her past.
When her momma's funeral forces her back to her hometown, she has no intention of staying longer than necessary. Until she meets Leo Marshall, the soft spoken journalist who sees her for who she wants to be, and suddenly a future she never expected opens up. Maybe her lyrics aren't the only place where love is found.
Book 4: He's the One
Having given up on the dream of a husband but refusing to give up the dream of a baby, Melinda Bane is putting her eggs into the sperm bank basket. When a fire puts her dreams on hold, she turns to her oldest friend Jared to help her through, like he always has.
Jared doesn't mind running to help his brother's ex-wife, Melinda, whenever she needs him. But while helping her repair her sunroom and learning of her hopes for a family, Jared has an idea of how he can fix even more than her home.
Book 5: Kiss me Again
Andee's ten year marriage has lost its spark. Whether it's attending couples counseling or a BDSM dungeon, Andee will do whatever it takes to reignite the flame. But when all her measures fail and leave her frustrated, Andee wonders if anything will rekindle the fire she so desperately desires.
Be sure to add LOVE COMES HOME to your TBR on Goodreads!