Finally, the cover  for JAVA MAN by Harris Gray has been revealed! Many thanks to all the bloggers that are participating in the reveal (listed below in no particular order). Also, there's still a few days left to sign up to be part of the JAVA MAN Blog Tour, if you'd like to join us, sign up below!
Lis Les Livres
BooksNerd
Mythical Books
Please Another Book
My Life Beyond Labels
Not Very Ladylike Book Blog
Rumpled Sheets Blog
Sapphyria's Book Reviews
Inside BJ's Head
The Top Shelf
Java Man by Harris Gray – Release: November 5, 2013
What do you do when a nightmare threatens your dream? In the disturbingly funny new novel from the authors of Vampire Vic, Brian Lawson receives a dread diagnosis: cancer. But he won't spare a moment from saving his struggling coffeeshop, even if success comes with his dying breath.

Divorced and ostracized in the rural community, Andrea Goldine sets her sights on the charismatic java man. Brian's doctors ravage him with chemo and radiation, yet the tumor on his shin grows. Brian drafts Andrea into his battle with a competing coffeeshop, desperate to tap the college campus's retail gold mine. But Andrea yearns for a different partnership…

Passions simmer below the surface of the tight-lipped community. Fresh from prison, North Dakota's legendary basketball goddess dangles a ticket to Brian's campus coffee dreams, and a disgraced scientist's toxin treatment tantalizes. Two miracles for two maladies—with one cure more deadly than the next.
Full Cover Wrap
(click to enlarge)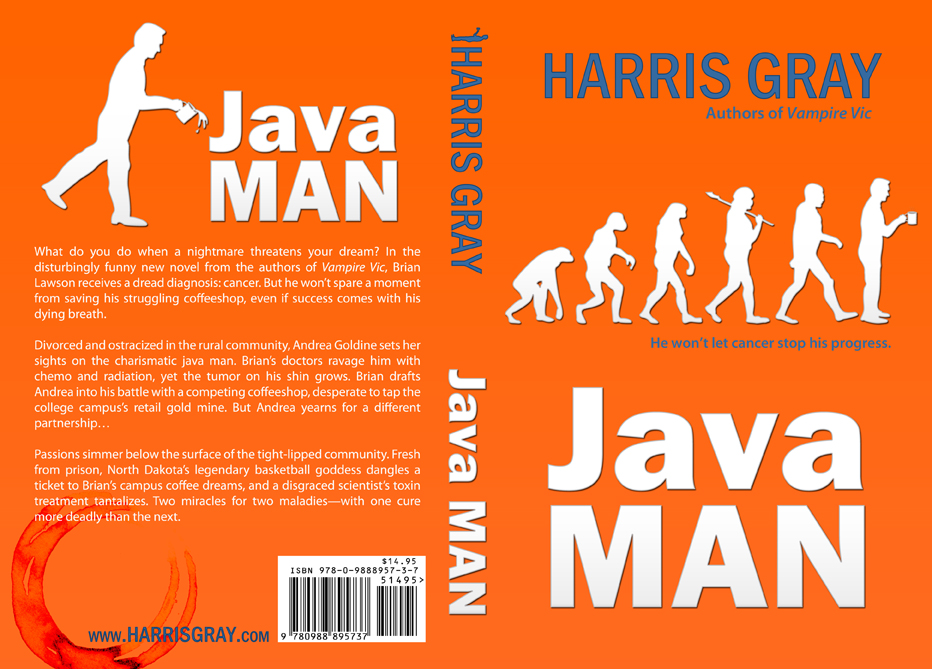 Thanks for checking out the cover for JAVA MAN. Bloggers, there are still a few days left to sign up to take part in the JAVA MAN Blog Tour, just click on the button below to sign up! If you're not able to participate in the tour, but would like to review JAVA MAN, or feature Harris Gray, please don't hesitate to contact me at publicity (at) bookandlatte (dot) com.
Please sign up to be a tour/event host, if you haven't already!
Note: Signing up does not guarantee you'll be on the tour. Hosts will be sent a tour date confirmation email, and the tour schedule will be posted here. Thank you for supporting my authors!
GIVEAWAY
One winner will receive one signed copy of JAVA MAN and a pound of coffee. Entrants must be age 18+ to enter.
Open internationally.
***Any contestant that uses dummy or contest only accounts to enter will be disqualified.***