You can participate in person, or anywhere in the country online November 22nd – 30th!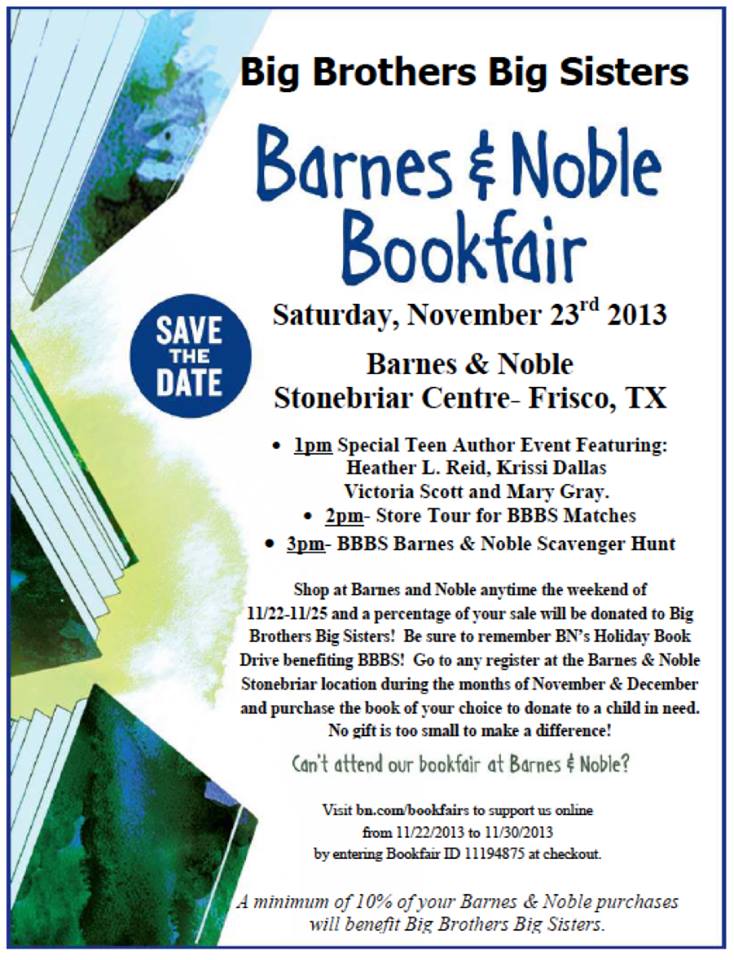 Close to 10,000 children in North Texas benefit from the Big Brothers Big Sisters program, and there's more than 5,000 waiting to receive a Big Brother or a Big Sister. Every contribution helps, so why not get a head start on your holiday shopping AND make a big difference in a local child's life all at the same time?
If you're in the area go see Heather Reid, Krissi Dallas, Victoria Scott, and Mary Gray Saturday, Nov. 23 at 1 p.m. at the Stonebriar Centre Barnes & Noble Bookfair, and help support this great cause. Just mention Big Brothers Big Sisters at checkout that day and throughout the weekend and 10% of your purchase will go directly to kids in the DFW area. This applies to everything in the store! Or participate online, anywhere in the country. You can do your part online from Nov. 22nd to Nov. 30th. Just enter the following bookfair ID at the online checkout: 11194875.
Also at the Stonebriar Centre location, shoppers can purchase and donate a new, unused book through the end of November that will be given to a "Little" in the Big Brothers Big Sisters program. Books from Early Reader to Young Adult are welcome and no gift is too small to make an impact.
Please spread the word and help make a difference!