I'm so excited to be organizing Rebekah Crane's Release Day Launch and Blog Tour for her upcoming YA novel, ASPEN. I adore this unique story that takes place in Boulder, Colorado, and its fantastic characters. ASPEN is already getting great buzz on Goodreads, and (YAY!) it's been picked up by a Film Agent! I hope you'll sign up to take part in these events!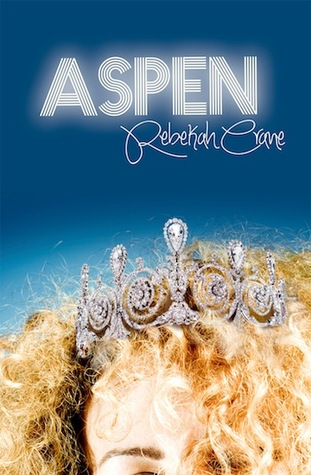 One quiet night in Boulder, Colorado, Aspen Yellow-Sunrise Taylor made a mistake.
In the next instant, her life changed forever.
Aspen doesn't want to remember the devastating car accident that killed Katelyn Ryan, a sleek-haired popular soccer player. But forgetting is hard– because Katelyn may have died — but she didn't leave. Her ghost is following Aspen around, and heading into senior year, it's kind of a problem. Especially when Katelyn's gorgeous former boyfriend Ben appears to be the only person at school with a clue as to how Aspen feels.
Popularity, college, Homecoming Court, hot guys – none of these things ever mattered to Aspen. She's been busy trying to rein in her giant mass of blonde curls, keep her stoner mother Ninny away from Toaster, her mom's awful bongo drumming boyfriend, and prevent her best friends Kim and Cass from killing – or kissing – one another. But with Ben sitting next to her in Physics looking all too gorgeous, Katelyn's spirit dogging her steps, and her obsessive snow-globe collecting therapist begging her to remember all the things she wants to forget, Aspen is thrust into a vivid, challenging world she can't control … and doesn't want to.
A darkly funny, emotionally gripping story of opening up, letting go, and moving on, ASPEN is about the best-worst accident of your life … and what comes next.
I hope you'll help spread the word about ASPEN's release! This launch event will include an excerpt to share, potentially other fun content, and an event wide giveaway!
Sign up ASPEN Release Day Launch
Rebekah Crane's blog tour for ASPEN is scheduled to run Monday, Wednesday, and Friday for 3 weeks, July 7th through 25th. The tour will consist of reviews, interviews, and guest posts/features, as well as a tour wide giveaway!
Sign up for the ASPEN Blog Tour
Already a diehard fan of Rebekah Crane?
Join the #BekHeads!

Details from Rebekah Crane's Website:
The Bek Effect is a selective group of people devoted to spreading all the good feels across the universe. This group speaks loudly, curses often, and loves books. And in abiding by the laws of karma, every good action has an equally positive reaction. Every time you spread the love, we give it right back to you. Weekly "Love Taps"! Bumper stickers! Friendship bracelets! Free books! Sneak peeks at new manuscripts! Video messages! Postcards! Even a character named after you! 

To become an official BekHead, fill out this form and we'll contact you. We're planning a big love-fest for the release of Aspen so don't miss out!