Happy Book Birthday to Rebekah Crane's new YA novel, ASPEN!  Many thanks to all the fantastic bloggers that are participating in ASPEN's Release Day Launch today. Check out the book and excerpt, the promotional video created by students and Genius House Media, and the 2 fantastic giveaways below!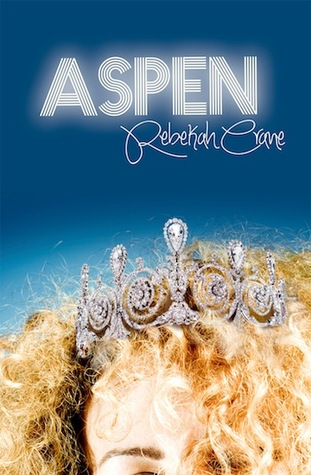 One quiet night in Boulder, Colorado, Aspen Yellow-Sunrise Taylor made a mistake.
In the next instant, her life changed forever.
Aspen doesn't want to remember the devastating car accident that killed Katelyn Ryan, a sleek-haired popular soccer player. But forgetting is hard– because Katelyn may have died — but she didn't leave. Her ghost is following Aspen around, and heading into senior year, it's kind of a problem. Especially when Katelyn's gorgeous former boyfriend Ben appears to be the only person at school with a clue as to how Aspen feels.
Popularity, college, Homecoming Court, hot guys – none of these things ever mattered to Aspen. She's been busy trying to rein in her giant mass of blonde curls, keep her stoner mother Ninny away from Toaster, her mom's awful bongo drumming boyfriend, and prevent her best friends Kim and Cass from killing – or kissing – one another. But with Ben sitting next to her in Physics looking all too gorgeous, Katelyn's spirit dogging her steps, and her obsessive snow-globe collecting therapist begging her to remember all the things she wants to forget, Aspen is thrust into a vivid, challenging world she can't control … and doesn't want to.
A darkly funny, emotionally gripping story of opening up, letting go, and moving on, ASPEN is about the best-worst accident of your life … and what comes next.
Excerpt from ASPEN
I swallow hard, trying to wet my dry mouth as someone takes the seat next to me. The bell needs to ring now to save me from further conversation. I scoot my chair over, the room and all its occupants slowly closing in on me—and then my neighbor's head of messy black hair catches my eye. My stomach drops to the floor.

"Why are you sitting next to me?" I snap.

It's Ben Tyler. Katelyn's Ben. His eyebrows are pulled high on his forehead, his eyes wide.

"Taylor and Tyler. I guess Mr. Salmon did the seating chart by last name." Ben says it like I'm interrogating him and he's nervous he might give me the wrong answer.

"Oh." Tingles flood my hands and I shake them out at my side. All around the room, people are looking at me. My cheeks heat with embarrassment. I'd get up and ask Mr. Salmon to change my seat, but then I'd get even more attention. People would start to wonder why I don't want to sit next to Ben Tyler. Hotty Ben. The grieving, perfect boyfriend of the dead Katelyn Ryan. Me getting up is how rumors start. Suzy tells Olivia who tells Sophia who tells Claire that I didn't want to sit next to Ben, and by the end of the week, everyone is talking about it.

I slink down in my seat, wishing I could disappear into the floor. "I hate eyes," I whisper to myself.

"Don't sweat it. I get that a lot, too," Ben whispers out of the corner of his mouth. Only one side of his face curls into a smile, like he can't force himself to pull the other cheek any higher. I feel the same way most days.

Then it hits me. People aren't staring at me; they're staring at us.

"I'm sorry." I force a two-cheek smile. "I'm an ass."

Ben huffs out a laugh. A scar runs through his right eyebrow, another across his left cheek. But even with the imperfections on his face, he looks handsome. I count all the colors in his eyes. Yellow, green, brown, flecks of blue.

"Aspen," Ben says. "You don't need to apologize to me."

I saw him at the hospital that night. He was sitting in a chair, his head in his hands, while Mr. and Mrs. Ryan talked to a doctor in purple scrubs with a colorful sleeve tattoo down her right arm. The scrubs looked more like a costume than a uniform. Mrs. Ryan had her hand on Ben's shoulder. Even with a face full of tears, he was beautiful.

At one point, he looked at me from across the emergency room. I was sitting in a bed, waiting for Ninny. My head was bandaged, and my leg was in a splint. I was even wearing one of those terrible gowns that open in the back so everyone can see your ass. As Ben stared at me, I kept seeing him and Katelyn in the halls. The whole school knew when they started dating sophomore year, because all of a sudden Katelyn went from the girl who played soccer really well to the girl who held Ben Tyler's hand in the hallway.

We stared at each other for so long that eventually it got awkward. I asked the nurse to pull the curtain closed.

Ben doesn't say anything else to me during class. Mr. Salmon goes over the syllabus for the year and then says he's retiring in the spring and plans to be sick a lot.

"Nothing's new in physics anyway," Mr. Salmon says. "Gravity is still gravity." He sits down behind his desk, takes a swig of his coffee, and tells us to "read or something." Maybe I won't fail after all.

When the class ends, Ben walks out of the room without another look in my direction.

Video created by Genius House Media. Find them on Facebook and Twitter!