We're beyond thrilled to finally announce our first ever #JHPRHeartsBooks contest, as well as an Instagram Challenge (you don't have to do the challenge to enter to win, see below)! Even though we've informally introduced our new Instagram account (along with Tumblr, and Twitter), we would like to invite JHPR authors, bloggers, and fans to participate in a challenge!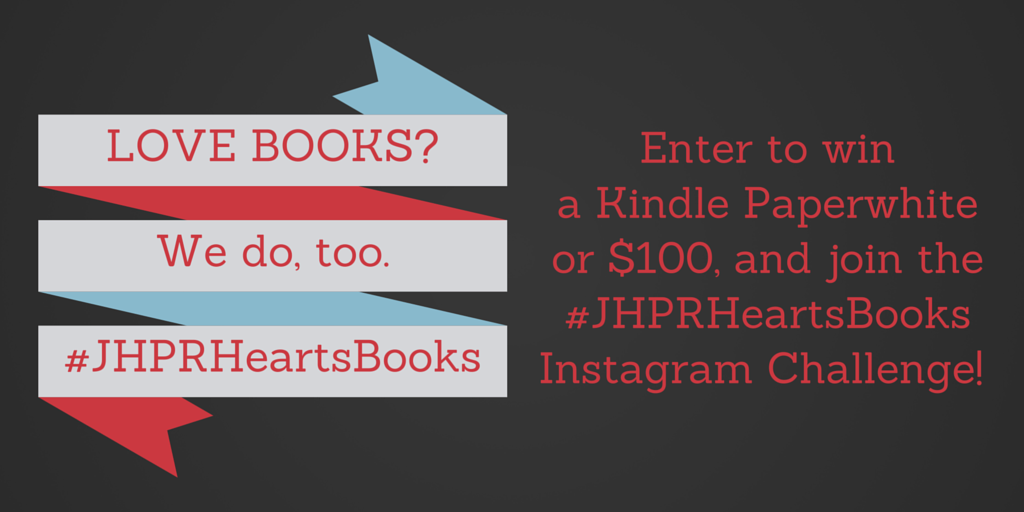 The #JHPRHeartsBooks photo challenge will run on Instagram for fifteen days, September 14th through the 28th, and will consist of the following posts:
Day 1: A Shelfie
Day 2: Favorite reading spot
Day 3: Favorite local bookstore
Day 4: Favorite reading snack
Day 5: Favorite reading drink
Day 6: Favorite YA book
Day 7: Favorite romantic read
Day 8: Favorite summer read
Day 9: Post a fandom/cosplay selfie, or a picture of your favorite fandom swag
Day 10: Your book bucket list
Day 11: Favorite fictional character ship (Who do you always wish ended up together?)
Day 12: Favorite book quote
Day 13: Worst book hangover ever
Day 14: Your most awkward or sneak reading location
Day 15: Your favorite school or office supplies (What can we say? We love office supplies!)
Post images daily during the fifteen-day challenge, and make sure to include the hashtag #JHPRHeartsBooks so we can see your awesome #booklover posts!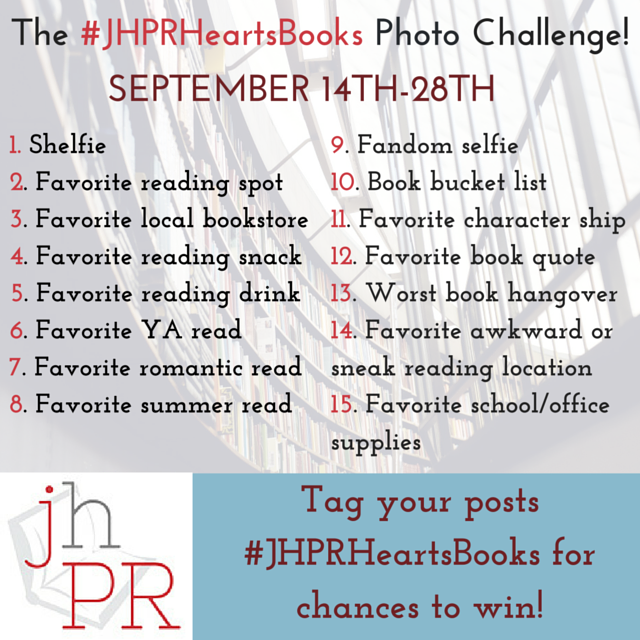 Sign up for the
Sign up for the Challenge!
Contest Details
There are two ways to win as we post about how we're #booknerds and #booklovers:
Enter the Rafflecopter giveaway below. The more entries you fill out, the more chances you have to win!
Photo challenge participants can also win surprise ebook prizes throughout the challenge (Sept 14th-28th), so be sure to use the hashtag!
The grand winner of the #JHPRHeartsBooks contest will win a Kindle PaperWhite OR a $100 Gift Card to winner's choice of Amazon or Book Depository!