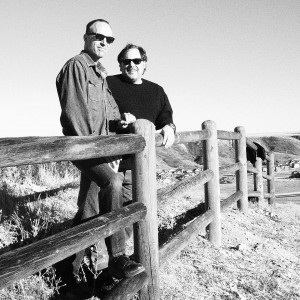 Allan Harris and Jason Gray are the writing duo Harris Gray, authors of two novels, two screenplays, a Christmas play, and a collection of stories from Jason's younger days. An early version of JAVA MAN was a finalist in the Rocky Mountain Fiction Writers contest. Allan is a former guest columnist for The Denver Post. Jason owns Crowfoot Valley Coffee and the Crowbar, land of rumor and embellishment.
The Harris Gray collaboration began in Jason's coffee shop. Allan wrote, and eavesdropped as Jason entertained his customers. One day Allan found a little yellow notepad waiting for him, crammed to the margins with Jason's exploits. Allan typed them, touched them up, and called it good, but Jason had other ideas. As their tales converged and became inseparable, Harris Gray took shape…the writer and the storyteller.
Allan and Jason are both married with two kids apiece, but many people still consider them a couple. Vampire Vic launched the VV Trilogy in March 2013, with Book Two due this spring.